STROUDSBURG, Pennsylvania — Bryan Christopher Kohberger, the suspect in the brutal murders of four University of Idaho students in November, waived extradition Tuesday during a court hearing in Pennsylvania, paving the way for him to face murder charges in Idaho.
Kohberger, 28, arrived at a Monroe County courthouse wearing red overalls and was escorted by deputies out of the county sheriff's van. Kohberger did not respond to questions that were yelled at him.
While in court Tuesday afternoon, Kohberger said he understood what waiving extradition meant. He also said that he does not have mental health problems. During the brief hearing, a member of Kohberger's family appeared to be crying. A sheriff's deputy came over and handed him a handkerchief.
Police arrested him in Albrightsville, in northeastern Pennsylvania, about 2,500 miles from campus, authorities said Friday.
Kohberger, who was a doctoral student at Washington State University's department of criminal justice and criminology, 9 miles from Moscow, Idaho, was known to make "creepy" and inappropriate comments to female employees and customers at a Pennsylvania brewery, the company's owner said to NBC News on Saturday.
Authorities said he will be charged with four counts of first-degree murder and robbery when he returns to Idaho this week.
The four students: Ethan Chapin, 20, of Conway, Wash.; Madison Mogen, 21, of Coeur d'Alene, Idaho; Xana Kernodle, 20, of Avondale, Ariz.; and Kaylee Goncalves, 21, of Rathdrum, Idaho, were killed on November 13.
Several crucial pieces of information, including a possible motive, Kohberger's potential relationship to any of the victims, or any evidence that led police to track him down, have not been made public.
Two law enforcement sources familiar with the investigation have said DNA evidence played a key role in linking the killings to him.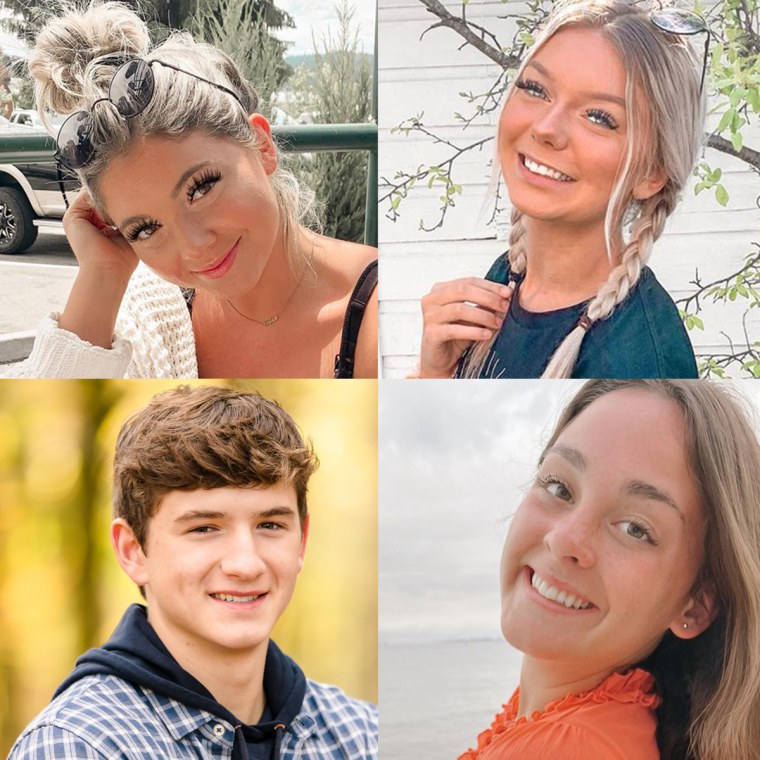 A Hyundai Elantra was stolen from Kohberger's Pennsylvania home on Friday, police sources said. Moscow police were looking for a white Hyundai Elantra as possible evidence.
In a statement Sunday, his family members said they are cooperating with law enforcement to "promote his presumption of innocence."
His attorney, Jason A. LaBar, Monroe County's top public defender, issued the statement on behalf of Kohberger's parents, Michael and Marianne Kohberger, and his sisters, Amanda and Melissa.
The Kohbergers pledged to "let the legal process play out and as a family we will love and support our son and brother."
"We have fully cooperated with law enforcement in an attempt to seek the truth and promote their presumption of innocence instead of judging unknown facts and making wrong assumptions," the statement continued.
LaBar said in an interview Saturday that his client is "eager to be exonerated."
LaBar, who is representing the suspect in the extradition case but not the murder case, said Kohberger was "very conscious, but calm, and really shocked by his arrest" when the two spoke for about an hour Friday.
An affidavit of probable cause, with details supporting Kohberger's arrest, is under seal until he sets foot in Idaho and receives the documents in court, authorities said.
Investigators have said they still need the public's help to "fully understand everything there is to know not only about the individual, but also what happened and why," according to Latah County Attorney Bill Thompson.
Three of the victims, Goncalves, Mogen and Kernodle, were roommates in the house where they were killed, while Chapin, Kernodle's boyfriend, stayed the night, investigators said.
Two other roommates who were home at the time were asleep during the stabbings, and one of their cellphones was used to call 911 when they woke up later that morning, detectives said.
The murders generated nationwide headlines and some 19,000 leads from the public that police said were crucial to the investigation.
The families of the victims say they are hopeful that Kohberger's arrest will bring justice.
Kernodle's mother, Cara Northington, said Friday the arrest lifted "a huge weight" off her shoulders, adding that she doesn't know Kohberger.
"A lot of the pain was not knowing who it was, knowing that whoever was responsible for it is still out there," he said. "So yeah, this definitely takes away a lot of the pain that we were experiencing."
Goncalves' father, Steve Goncalves, called the arrest Monday the beginning of the "second chapter" in what has already been a painful saga for his family and the families of the other victims.
"We are moving forward to make sure we have the right person, and we are all focused on understanding what we are about to go through," he said.
Minyvonne Burke reported from Stroudsburg, Pennsylvania and Antonio Planas reported from New York City.