The New York Giants entered the 2022 season with questions about two important positions on their team: quarterback and running back.
As the season heads into Week 17, New York may have found its answers to questions about how they will proceed with Daniel Jones and Saquon Barkley heading into the 2023 offseason. The Giants view both players as part of his future next year and beyond, according to NFL Network.
CLICK HERE FOR MORE SPORTS COVERAGE ON FOXNEWS.COM
"These two guys are free agents. The Giants plan to try to reach an agreement with these two guys," Ian Rapoport, an insider for NFL Network, said on "NFL GameDay Morning" on Sunday. "Obviously, the franchise tag is available. You can only tag one, so in this scenario, one would need a multi-year deal and one could have a tag."
New York reportedly hopes to have both players back for next season. But the contracts are not likely to be player-friendly, the report suggested. The "price would have to be right" for the Giants to get both players back.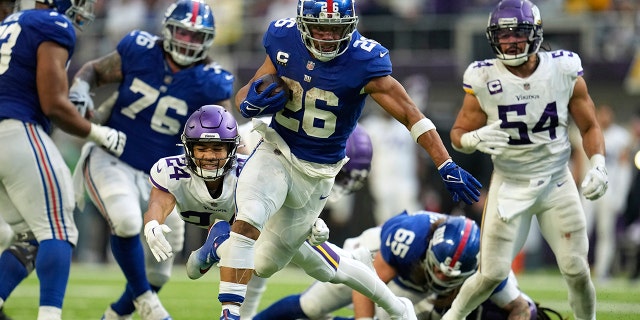 RAIDERS TO 'EXPLORE TRADE OPTIONS' FOR DEREK CARR AFTER DISAPPOINTING 2022 SEASON: REPORT
The Giants are on the cusp of the playoffs for the first time since 2016.
Jones has had a solid year. He has 3,028 passing yards, 13 touchdown passes and five interceptions. New York declined his fifth-year option before the start of the season.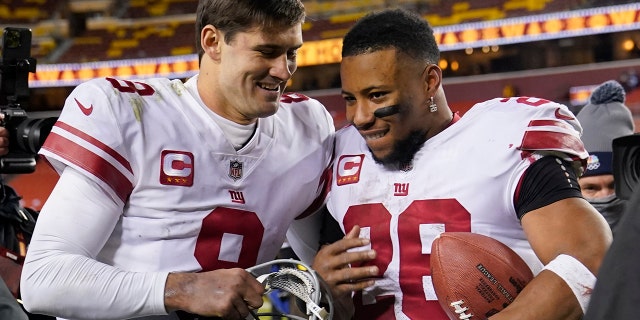 CLICK HERE TO GET THE FOX NEWS APP
Barkley earned his second Pro Bowl selection. He has 1,254 rushing yards and 10 rushing touchdowns this season. He is at the end of a four-year extension that he signed in 2018. The Giants exercised their option on him for 2022 in April 2021.