The Green Bay Packers had their own destiny in their hands: win the remaining two games of the season and get in.
You can mark week 17 on your list.
Green Bay showed up for their home fans at Lambeau Field on Sunday, dominating this year's NFC North champion Minnesota Vikings 41-17 to keep their playoff dreams alive.
CLICK HERE FOR MORE SPORTS COVERAGE ON FOXNEWS.COM
There was a lot of anticipation surrounding these two teams leading up to the game, as has been the case for quite some time in this storied rivalry.
Minnesota clinched the division title last week. The Packers won three in a row to get back into playoff contention. And, of course, Packers top cornerback Jaire Alexander called Vikings receiver Justin Jefferson's performance, the first time these two teams met this year (nine receptions, 184, two TDs), a chance.
So with tensions running high at the start, this was a game that was bound to be good. But no one expected what happened for the Packers.
VIKINGS' JUSTIN JEFFERSON HITS THE REF IN THE BACK WITH HELMET AS FRUSTRATIONS RUN OUT
It wasn't a great start as the Vikings blocked a punt that dropped them near the goal line, though they couldn't connect it for a touchdown. Instead, Greg Joseph hit a very short field goal to put the Vikings on the board first.
Then it was all Packers from there and it started with a 105-yard kickoff return from Keisean Nixon, the first of his career. It didn't seem like Nixon should have gotten the ball out, but he clearly had a gut feeling and it was worth the long sprint down the grid.
Later in the first quarter, the Vikings had strong field position after the Packers failed to convert on fourth down. But Kirk Cousins ​​threw a pick to Darnell Savage on his own fourth-down conversion attempt, and he drove it 75 yards home to make it 14-3.
That's when the rails fell for the Vikings. The next drive was a missed field goal by Joseph, which the Packers turned into one of their own. Cousins ​​was then intercepted again on a deep ball intended for Jefferson. Adrian Amos took it away.
PACKERS PUT A 105-YARD KICK-OFF RETURN, PICK-SIX IN WILD FIRST QUARTER VS VIKINGS
Robert Tonyan would find the end zone on the ensuing drive off a nice pass from Aaron Rodgers, and after Joseph missed his second field goal of the night, Mason Crosby finished the first half with a bomb from 56 yards to make it 27. -3 at half time. .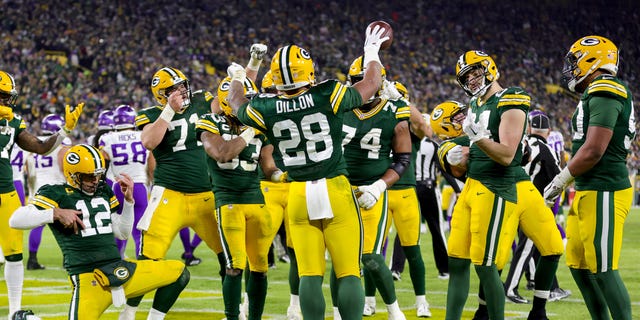 In the second half, more turnovers plagued the Vikings, as their first two drives ended in disaster. First, Cousins ​​was sacked by Kenny Clark, who got the ball back in Packer territory. Then, just after the Packers made it 34-3 when AJ Dillon scored his sixth rushing touchdown in five games, Cousins ​​threw another interception on the first play of the ensuing drive.
Rodgers capped off a solid game with a rushing touchdown to make it 41-3, and even with time remaining, it was up. The Vikings had two charity touchdowns late in the game, but it didn't matter: The Packers were moving on with a chance to make the playoffs if they can land the Detroit Lions in Week 18.
PACKERS CORNER SAYS JUSTIN JEFFERSON'S DOMINANT WEEK 1 PERFORMANCE AGAINST GREEN BAY WAS A 'CHANCE'
Rodgers finished 15 of 24 passing for 159 yards and a touchdown, along with racking up that rushing score as well. Aaron Jones looked healthier in this game, totaling 111 yards on 14 carries. Allen Lazard led the receiving corps with 59 yards on five catches.
As for the Vikings, Cousins ​​finished 18 of 31 passing for 205 yards, one touchdown and three interceptions, while Nick Mullens eventually came on for him. The Packers were able to swallow Dalvin Cook, who only had 27 yards on nine carries.
Oh, and Alexander lived up to his words about Jefferson: The top NFL wide receiver on the stat sheet had just 15 receiving yards (five targets). After a pass breakup, Alexander was even seen doing Jefferson's signature "Griddy" dance.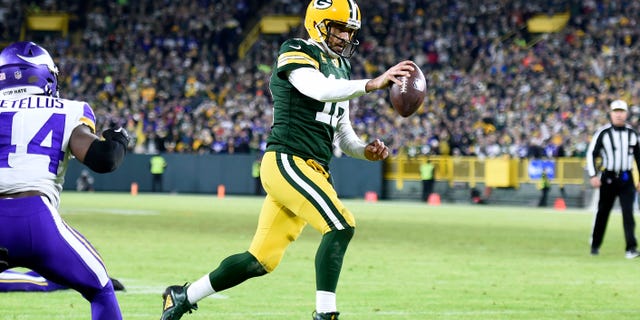 CLICK HERE TO GET THE FOX NEWS APP
But, at the end of the day, the Vikings are just playing to seed, while the Packers hope they can beat Detroit, which is also looking to sneak into the playoffs.
Minnesota is now the No. 3 seed in the NFC after the San Francisco 49ers extended their winning streak with an overtime victory against the Las Vegas Raiders. They will face the Chicago Bears in week 18.