Argentina lives these days with great expectation the favoritism of the swollen albiceleste in the shortlist nominated by FIFA as "the best fans in the world" for the prizes The best.
At the event to be held this Monday in Zurich, Switzerland, the fans of Argentina will compete to keep the distinguished award when starting as a favorite at the awards ceremony.
FIFA described the national nomination on its website as follows: "The journey from Argentina to Qatar is not exactly short, but fans of the albiceleste came to Doha in large numbers from the start of the championship to support Lionel Messi in his last attempt to win the only trophy that remained elusive until then".
"The noise they made in the stands was constant, with the beating of drums and continuous chants that made almost every game in Argentina seem like a home match for Messi and company," FIFA explained.
Argentina will compete with Japan, to which cleanliness in post-match stadiums stands out, and against Saudi Abdullah Al Salmi, who spent 55 days walking through the Arabian desert to see his team in action.
In case of achieving the distinction, it was known that the person in charge of receiving it will be none other than Carlos Pascual, better known as The Tula.
Who is "El Tula"?
Carlos Pascual is 82 years old and is popularly known as The Tula, who he dedicated his life to actively participate in sports events and political acts of Peronism.
The rosary is a symbol of the World Cups, since appeared for the first time in Germany in 1974 with that mythical bass drum that Juan Domingo Perón gave him in 1971 and which is now full of stickers from different parts of the planet. Since then he has been present at every World Cup event.
In 2022, Tula arrived in the Middle East and achieved close to the consecration of Lionel Messi and company, in what was his 13th World Cup.
Update He walks in his wheelchair, with his cane and his drumbut he is never alone. Yuri, a Russian friend he met at the 2018 World Cup, seconded him on many occasions. But when he is not there, some Argentine fan assists him, accompanies him to his lodging and makes sure that he is well.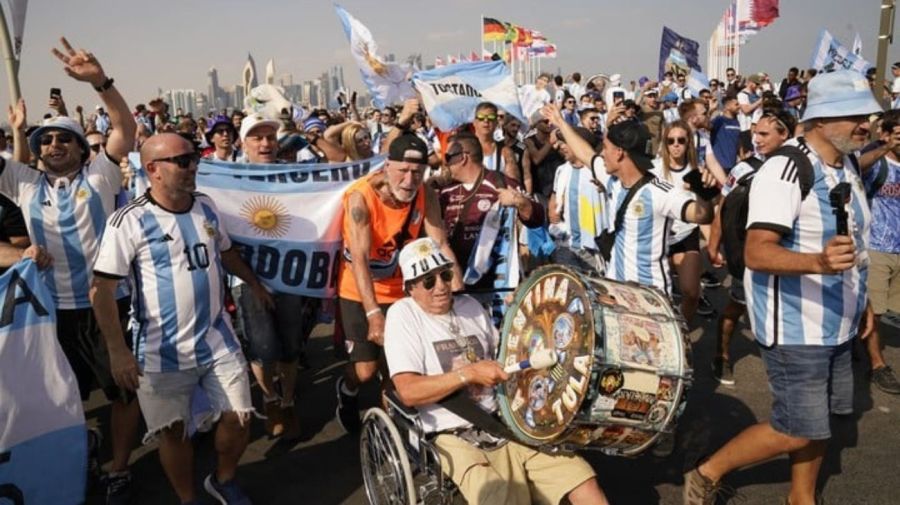 The Argentines nominated for The Best Awards
Lionel Messi is nominated for best fifa player together with Kylian Mbappé and Karin Benzemá, while lionel scaloni will compete for the award best coach with Carlo Ancelotti and Pep Guardiola.
besides, emiliano drawing martinezhe is nominated for best goalkeeper with Yassine Bounou and Thibaut Courtois.