As the season progresses on the Coast, with millions of tourists enjoying the Buenos Aires beaches, Horacio Rodríguez Larreta, Gerardo Morales, Martin Lousteau Y Diego Santilli It is stored in Mar del Plata this Saturday, together with its economic teams, to show that internal photo and advance the guidelines of the 2023-2027 government plans. It was a 3-hour meeting in which aspects of the economic program that Argentina needs to "stabilize and grow" were developed.
Along with Rodríguez Larreta were Hernán Lacunza, Luis Secco, Milagros Gismondi, Lucas Llach, Nicolás Gadano, Pablo Lavigne, Julia Pomares and Nicolás Caputo.
Morales was accompanied by his economic references Eduardo Levy Yeyati, Horacio Barreiro, Carlos Guberman, Ignacio Bruera.
As for Lousteau, he attended together with the National deputy, Emiliano Yacobittithe President of Banco Ciudad, Guillermo Laje, the President of the Argentina Porvenir Foundation, Javier Okseniuk and the Director of LCG Consulting, Guido Lawrence.
In a statement, the leaders of Together for Change pointed out that the axes that were addressed in the meeting were:
Certainty program (fiscal, monetary and financial aspects)
Development program (regime for micro and small businesses, investment mechanisms, simplification and deregulation, openness and commercial integration, credit and capital markets)
2023 work agenda to advance programmatic agreements of Together for Change and bills
At the end, Larreta specified that "stabilizing the economy and generating better conditions for production and the creation of new jobs is key to moving the country forward. For this reason, together with the economic teams of the Juntos por el Cambio foundations, we continue to working on the government plan that will solve the country's problems and restore hope to the Argentine people."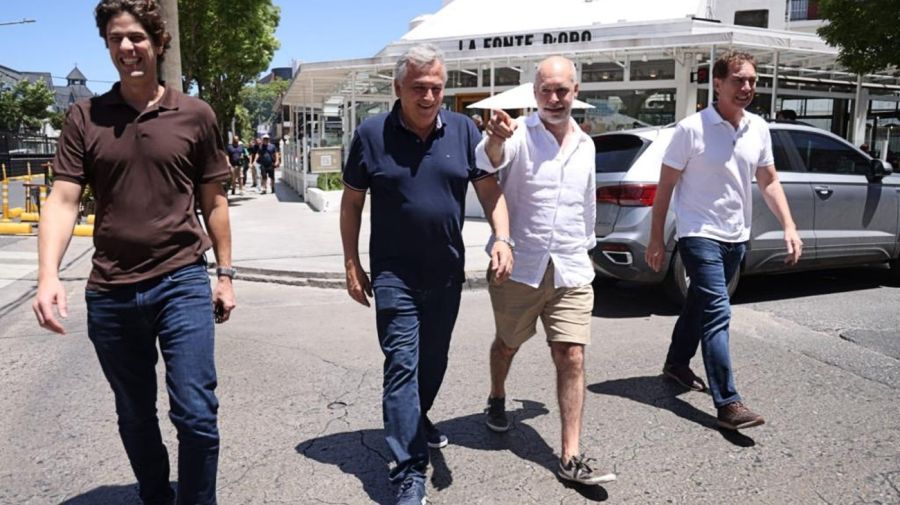 For his part, Morales lacks that "with Horacio Rodríguez Larreta, regardless of who is the candidate for president after the PASO, we share the need to value political dialogue both internally and externally and we have been working so that JxC has a productivist certainty program, which guarantees development with the inclusion of all Argentines, and which also generates the confidence of investors and the hope of workers, because the only way to lift our compatriots out of poverty is with decent work. before the end of a dark era and we know that what is coming is not easy, but we also know that to lift Argentina up, mysticism, concrete plans and the political conviction are needed to carry it out".
For Lousteau, "these meetings are very fruitful, together with our economic teams, we exchange the views we have on the country and the City of Buenos Aires and we advance on how we are going to work from 2023 to improve the lives of the porteños and the argentines".
half pension