Its about sport and training but, above all, of the connection with the sea. The surf, a discipline that has gained popularity in recent years among many women, offers a unique way of contact with nature. "Our hashtag is #mujeresalmar and there is something about that exchange of energy that is generated when we enter the water that is not only good to experience, but also to do it consciously", illustrates Pía Neira, a partner at Surf Trips, one of the pioneering ventures of surf trips for women. The connection in the same search is another of the strong points behind the great movement of girls who throw themselves into the water.
connect with yourself
Born in 2017 by Pía Neira and Dolores Lanusse, the coach of this duo, Dela started following the idea of ​​others surf trips for women that were made in the world, but that were not yet widely seen in Argentina. In fact, Pía was going to one when she mentioned the idea to Dolores, and in a beach chat she decided to start the venture. Their first trip was to Florianópolis and today they also go to Buzios and Máncora and make shorter versions to chapad malal, where they both reside. In their itineraries they teach classes in the morning, very early, with feedback from the practice via video coaching to polish the technique; a fresh and healthy diet and yoga classes. Its public is extremely diverse, from 18 years old to over 50, with or without children, but always united by the common denominator of being curious women who "dedicate time to their concerns and their own desires."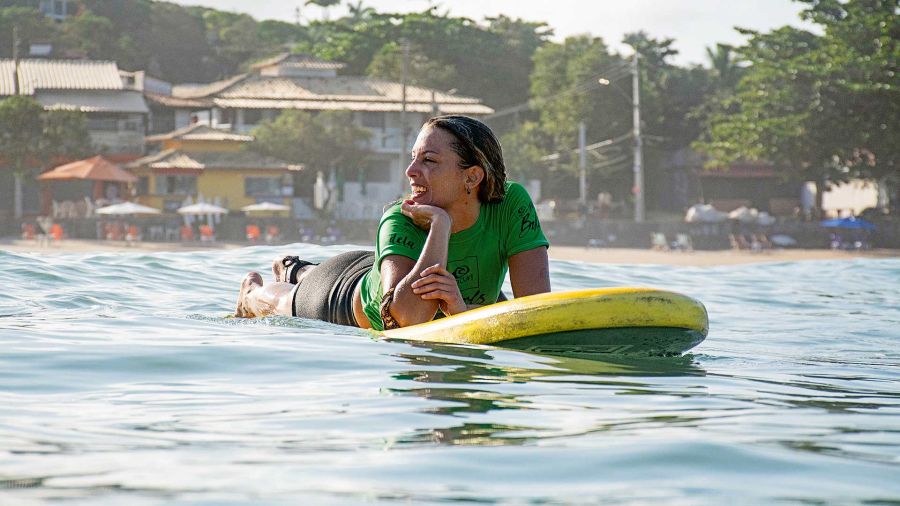 It is that although surfing has gained a lot of visibility in recent years (becoming a olympic sport was one of the keys), the rise of this type of female travel also has to do with the tendency to take personal time to explore. "I think surfing gets attention not just because of how much fun it is, but because it's all A lifestyle. It is a super nutritious space for a woman who is looking for a connection that contains the same or a new experience", says Neira, who adds that it involves a great learning process about tolerance to frustration and personal demands. "Many say it's like a moving meditation, because you can not do anything else than be at that moment. That is why it collaborates a lot with situations of anxiety or stress ", he describes.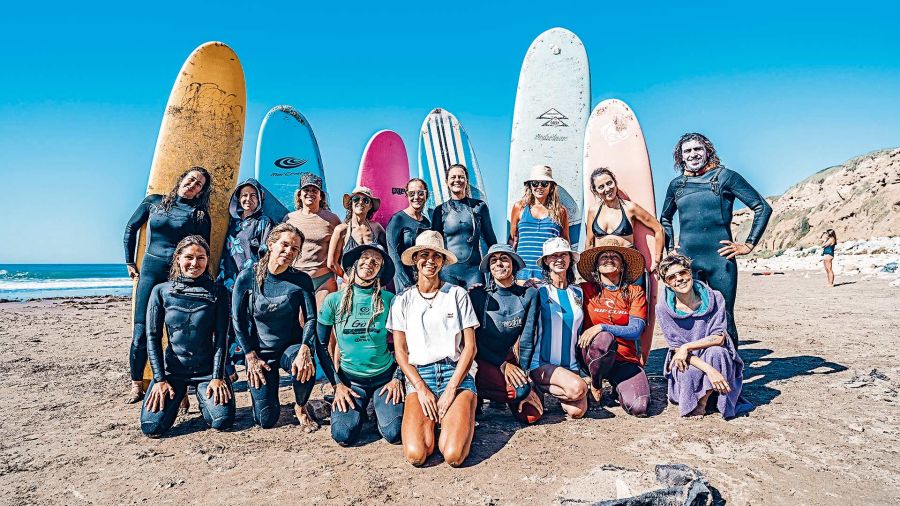 From that same search, Surferas Argentinas was born, the venture of Moira Gil, who four years ago, after having her son, felt a very strong need to return to herself. "I felt like she had given it her all and needed a reconnection," she recalls. And while he was walking with the stroller through the streets of Mar del Plata, he came across the sea and remembered its essence: he had spent his last 10 years living in the United States and in charge of a surf school with which they did surf retreats and yoga for women "I published a call on Facebook and that's how the rounds began," says Gil. Among surfer friends and other professionals they put together a team to offer to experience surfing "through the eyes of a woman".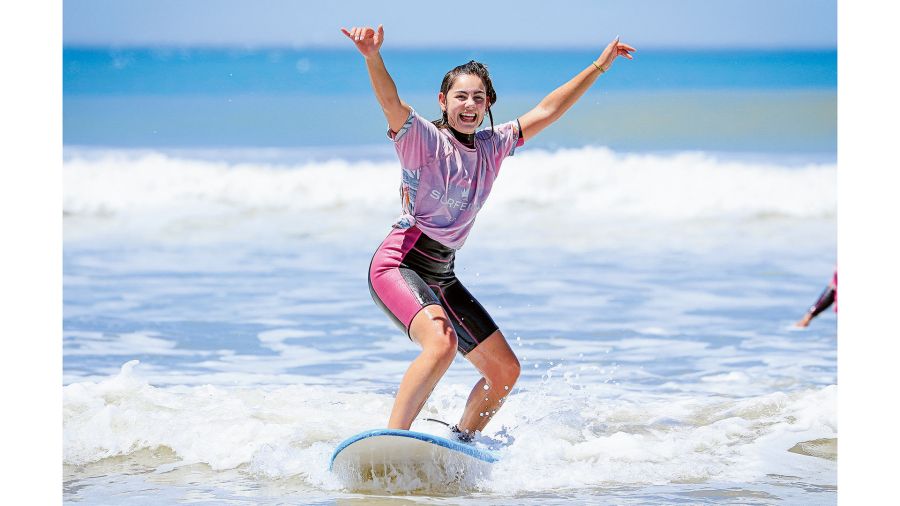 Implying? That integrates with other activities that complement it for a general well-being, such as yoga and meditation with voice and sounds. It is also based on a mutual and group incentive. "In the round that we do and we characterize ourselves, we look into each other's eyes and recognize each other as equals. We do not compete or compare, we empower ourselves". They carry out special three-hour classes, retreats and trips to different parts of the country and in 2023 they are also planning one abroad. In addition, they added classes for children and the whole family and in February they will hold the fourth festival surfing day female surferswith free clinics for women, Yoga classesmusic and art and a healthy breakfast.
on tables
Ganesha Yoga and Surf Trip is another venture that unites the love for surfboards and water with the practice of yoga, also adding a healthy diet to generate a complete lifestyle. A way of life that was that of its creators, Carolina Moreno and Loly Gómez Romero, and that they wanted to share with the world. "First it was with friends and acquaintances, over time it grew and became bigger and more inclusive. Today we make between 10 and 12 trips per year of about 20 people each", illustrate the members. From March to December, his proposal is 7 days in Brazil with accommodation a few meters from the sea and with meals, transfers, surf classes and yoga practices every day. They also usually include activities such as rides in "stand up paddling"baths in cachoeiras and trekking to deserted beachesas well as advice on conscious eating and a healthy lifestyle, so that travelers can return home and continue incorporating habits that improve their health.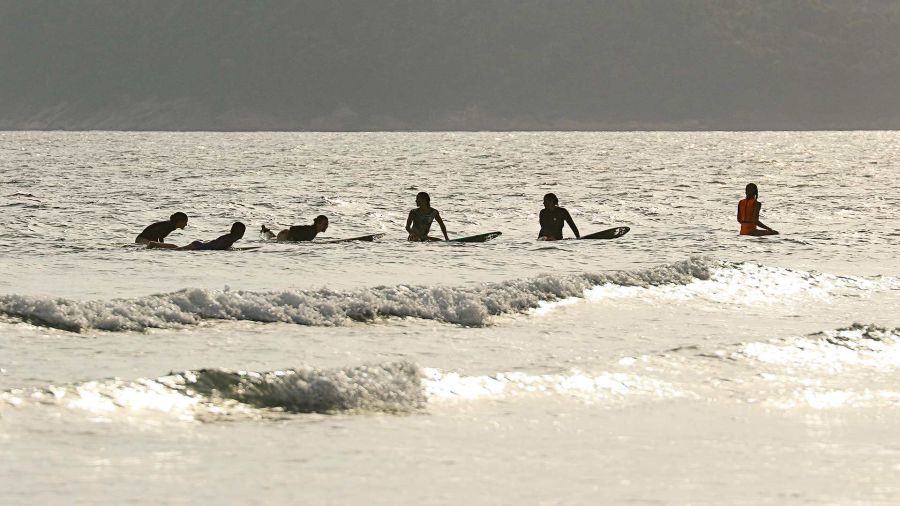 "Surfing and yoga are disciplines that help us get to know ourselves better, challenge ourselves and overcome difficulties. What we learn at sea is later incorporated into daily life", illustrates Carolina. For this reason, her proposal was expanded and today we receive both girls in their 20s and men over 60, alone, in a group or as a couple, but always with an adventurous spirit. "Many friendships are generated that later transcend the trip and always come back," says the duo.
The "stand up paddle", familiarly known as SUP, is another discipline that brings together many women in its practice. For 10 years, Lorena Barbero, a three-time champion of this sport in all disciplines and a Pilates teacher, has been in charge of Chicas al Agua, a Mar del Plata venture that offers classes for all ages, and that although she was born with the female focus also receives men and children. With a particularly calm sea, the school is located on Las Toscas beach, although Lorena indicates that any body of water is valid for practicing this sport.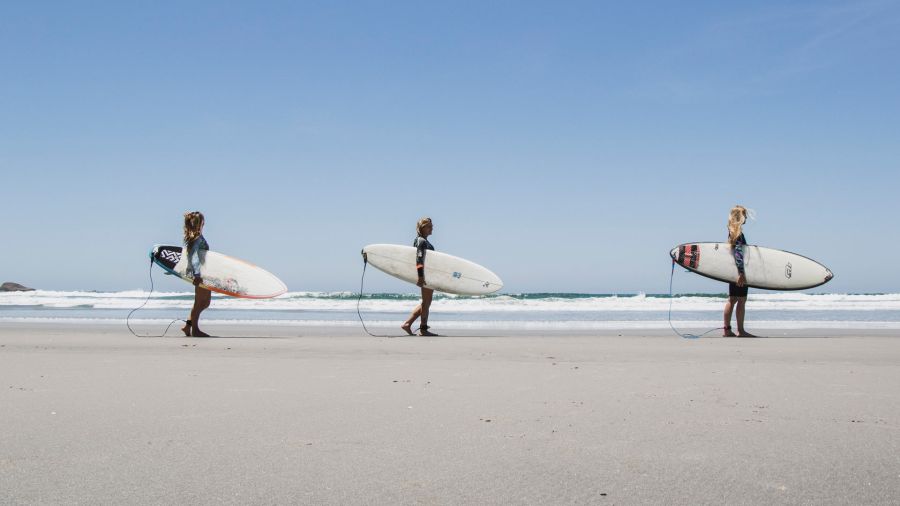 "A community of women was created, we all work and have other professions, but we look for the sea as a sport, as a hobby, as health, as well-being, to feel good", summarizes Barbero.