Yamila Rodríguez is the forward of the Argentine National Team. When Cristiano Ronaldo was tattooed on one of his legs, he never thought he would receive endless accusations and violent attacks. Many called her "anti Messi".
Now she is representing the country in the FIFA Women's World Cup that she is playing with the Argentine National Team.
The player asked that they stop attacking her.
A photo of Rodríguez's leg, which came from Boca and now plays for Palmeiras in Brazil, went viral. There you can see that he has tattooed the Portuguese star and Diego Armando Maradona. The 25-year-old striker decided to write a disclaimer to curb the violent messages.
What did Yamila say on her networks?
"Please enough. I'm not having a good time. At what point did I say that I am anti Messi?
Instead of getting stronger in the next games, Yamila assured that she is having a hard time "because of the atrocities they say." "Can't you have an idol or a player you like? Please. I never said that I am anti Messi and I never would be, "she added.
About being branded as anti Messi, the former Boca pointed out: "Messi is our great captain in the National Team, but the fact that I say that my inspiration and my idol is CR7 does not mean that I hate Messi."
Finally, Yamila reiterated that they stop attacking her for her fanaticism of Cristiano Ronaldo. "We can all like different things and they should be valid. What is the problem? We are not all forced only to love the players of our country. Please, "she insisted and continued:" Understand that this is football and everyone has their preferences and highlighting one does not mean entering the other. Enough, tired, hurts".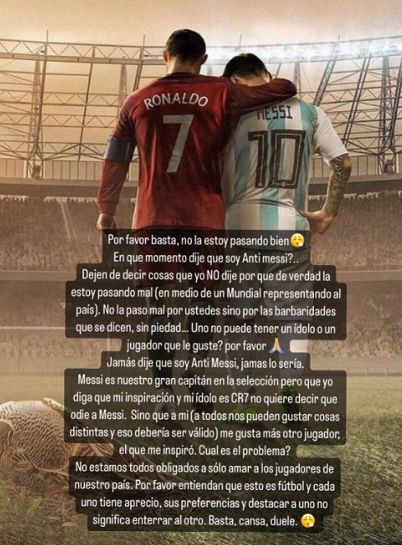 support from her peers
Her teammates from the National Team and famous women's soccer figures supported Yamila Rodríguez and shared the post. In the midst of the deep release, the players representing Argentina are preparing to face South Africa on Thursday, July 27 at 9:00 p.m. in Argentina.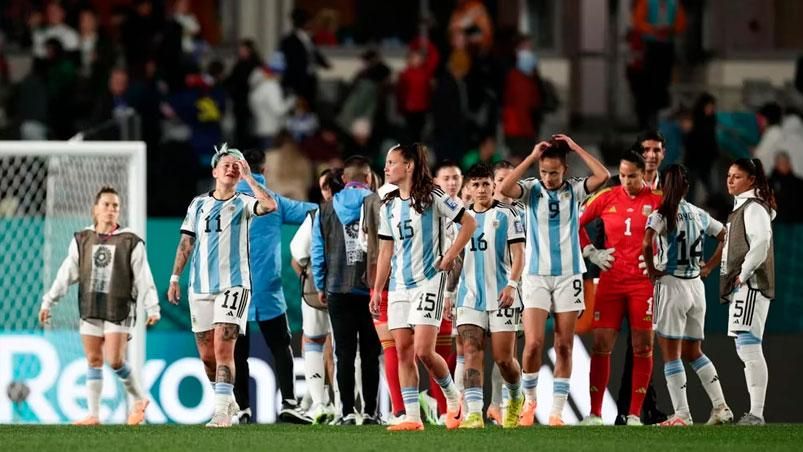 The players seek to recover from the 1-0 loss to Italy and reach the duel against Sweden with the possibility of qualifying for the round of 16 for the first time in history.