Former soccer player Patricio Toranzo, who knew how to shine in Hurricanerecalled the accident that the team suffered seven years ago in Venezuela after the return match in which they faced Caracas for the rematch of the qualifying playoffs to the group stage of the Copa Libertadores and left shocking revelations.
diego mendoza he scored the goal with which the Parque Patricios team saw access to the next instance despite the 2-1 defeat, and although everything was joy for the pass, it was diluted during the trip that the team made in the morning next, since sThe gearbox broke, as did the bus's brakes, and the driver flipped the vehicle down the ravine.
The most engaged in that episode -that there were no fatalities to be regretted- It was Toranzowho had to undergo surgery due to injuries to the toes of one of his feet.
"It has changed my life and it has changed me sportingly. It is not easy. I am talking to you and the pain goes with me. The pain goes with me. It hurts 24 hours a day. I played, up to 90 minutes it has touched me, they hit me and I got up. I told no one. Nobody", recounted the former midfielder who emerged in River.
"I told very little of what has happened. He declared me deceased and only after eight hours did I speak with my family. I didn't want to talk to anyone, I had to be focused on what was happening in there because I knew that if I did not have the strength and fight with the doctors of Venezuelathat they have behaved very well, I wouldn't be talking about a sequence in my career," revealed in dialogue with Fox Sports.
In addition, he explained that being close to death changed his perspective on how to see and take the day to day: "It is the most difficult. Because you listen to me talk about football… First I am grateful that I am alive. God gave me 10, 20, 30 more years. I am extremely grateful."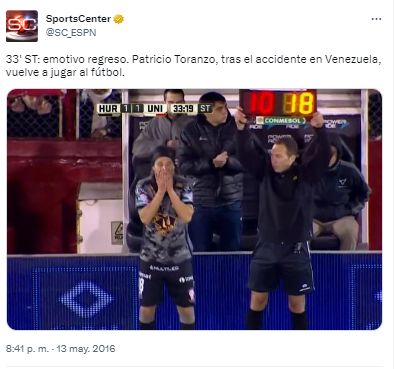 "But internally you don't know what you feel. I can tell you but feel, you will never feel it. The second the light goes out. Look what one can get to. One begins to value a lot of things. Life is something that if something traumatic or serious doesn't happen, you don't realize what's going on around you"highlighted.
The great fight that Toranzo had in the north of South America was to avoid returning to Argentina without one of his extremities: "I could never speak about it. I think it is the first program that I feel after football. I fought so they wouldn't cut my foot off."
"If it was because of how the situation was, it was to cut the foot in Venezuela, do a dubbing and see you in another life. I had a career ahead of me but I did not know if I was going to play again, to walk", He detailed about the words he exchanged with the local doctors.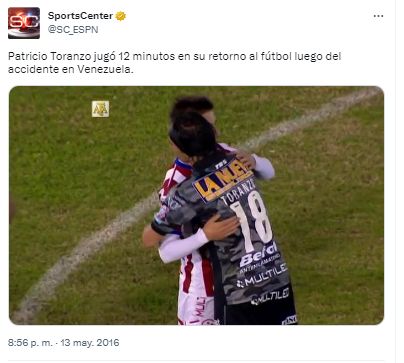 Once in the country, he underwent surgery again to try to rescue his professional career: "I underwent three operations, one in Venezuela and two here (in Argentina). The only thing I said to Fernando Locaso before entering the operating room was 'please tell me if you are going to cut my foot now. I don't want to wake up and it's not there.
Later, he added: "He looked at me and said: 'I don't know, I don't know what will happen until I open it.' I went to the operating room without knowing, with full anesthesia. In Venezuela it was local because I wanted to know what they were doing to me."
Toranzo's career continued after the operations. He spent the next three years with a contract in Huracán and returned to the courts on May 13, 2016 against Unión. In mid-2019, he resigned by mutual agreement with the "Globo" and sought new horizons: first in the promotion with the Almagro shirt and then he had international experience in the Cyclone Tarija of Bolivia to close his career with a fourth cycle in Parque Patricios until May 2022, when he announced his retirement.
Source: NA