The Boca Juniors player Sebastián Villa declared this Monday in the context of the trial for gender violence against his ex-partner Daniela Cortés. During his testimony, the soccer player denied having hit the woman and reversed the suspicions by stating that he was a victim during the relationship. In this regard, he said that he "wore long-sleeved shirts" so that his Boca teammates would not see that they were beating him at his house.
In 2020, Cortés denounced the athlete for acts of gender violence that occurred in April of that same year in the country Saint Thomas where they lived, located in the town of Canning. The footballer is accused in that file for the alleged crimes of "minor injuries aggravated by the bond and by mediating gender violence and coercive threats". "I never committed the deed"the player clarified before judge Claudia Ávalos.
Trial of Sebastián Villa, day 2: two experts said that his ex was at "high risk" of life
During his testimony, Villa recounted that I met Cortés "through social networks" in 2018. "I lived with my mother in Medellín, but in June Boca bought me, I asked Daniela to accompany me to do the medical examination and we came to Buenos Aires. We stayed for ten days and then we returned to San Andrés," she described.
According to his statement, His partner's attitude towards him became negative "when he saw that he had money" for the purchase of Boca. "In Buenos Aires I lived first in an apartment in Juana Manso and Daniela came. She came and stayed a month and came back and so on. When she saw that he had money, she started being jealous, manipulating, He didn't like that I brought my family. Daniela wanted me to give her the cards, she argued with me that she wanted the cards and I told her no, "she explained.
"That's where money from Boca Grande came in for the sale transaction and I bought an apartment in Medellín, we gave Daniela's sister a power of attorney to buy it and, over time, we realized that that apartment was seized," detail.
Regarding Cortés' behavior after the contract with Xeneize, Villa maintained that "she wanted everything for herself." "I couldn't get out of club meetings because it would get me in trouble, he ripped my clothes off in the elevator, I had bought three Dolce Gabbana shirts. She wanted everything for herself," he stated.
In that sense, accused the woman of constantly asking him for money, before which he "always passed" the amount demanded. In this regard, he said that Cortés asked him for money for an operation to remove the "stretch marks" due to his pregnancy. "I spent 14 thousand dollars in operations, I gave him everything he asked for. She went to Colombia and had surgery," said the striker. Added to this, it corresponds that on one occasion she stole from him: "I always gave her money, she even stole money from my money to buy an Audi vehicle. I no longer trusted her".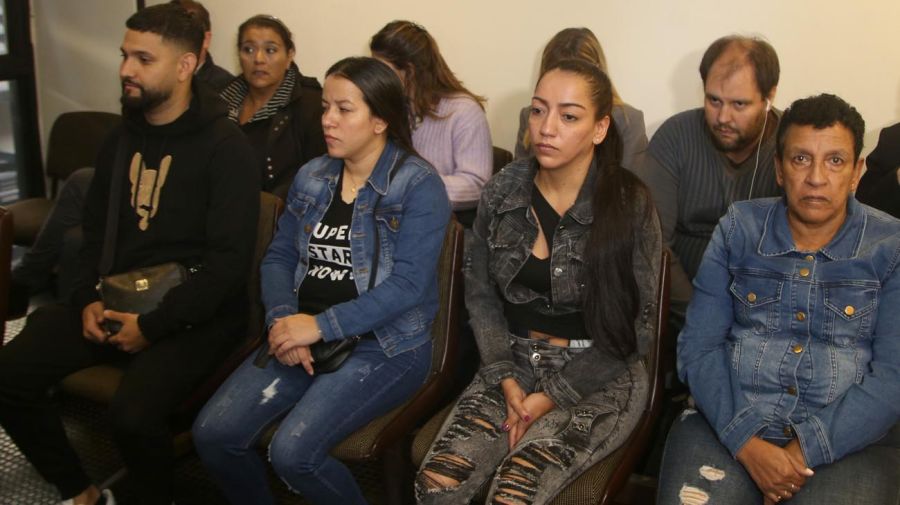 In addition to denying the suspicions against him, Villa maintained that your ex-partner hit you during the relationship. "He grabbed my shirts, he scratched me, I wore long-sleeved shirts so that my classmates would not see that they beat me at home," she added. Likewise, he indicated that Cortés told him at that moment "If you are not mine, you are nobody's", which "scared the hell out of him." He even recalled that his girlfriend at the time had asked him for $150,000 to take a private flight to Colombia and that the fact that he refused gave rise to the subsequent complaint.
"Seeing my mom crying is very hard, I'm not a bad person, I consider myself a good boy, who respects women and my family. Now they shout things at me on the court that I am not. I trust God, she was a believer, she took Daniela to church, "concluded the footballer.
After the player's short statement, where he only asked questions from his lawyer, the court granted that the arguments will begin on May 17.
"He acts impulsively": the statement of the defense expert
At the trial, Agustina Santamaría, a psychological expert proposed by Villa's defense, also testified. During her testimony, the professional stated that the complainant "acts impulsively"At the same time, he denied having seen signs of gender violence in Cortés.
Santamaría traveled to Medellín, Colombia (where Villa and Cortés are from), and perhaps to the complainant on April 24 and 25. According to the interviews, the expert demonstrated a "neurotic personality with histrionic features, because it puts out internal conflicts".
"Has a childish and narcissistic structure and is akin to establishing superficial and short-lasting ties due to not being able to recognize the needs of the other. In addition, he has a good intellectual level, has the resources to be able to respond to the needs of the environment and has common sense and reality, he does not present hallucinations or altered speech. It does have a tendency to take elements out of context and based on that make some kind of judgment and leads her to wrong conclusions", summarized.
The woman who denounced Sebastián Villa for sexual abuse said that he "ruined her life"
Asked by the defense about how such a personality acts when faced with rejection, Santamaría clarified that Cortés "acts impulsively." In this sense, during her defense, Villa said that the woman reacted when she wanted to end the cohabitation relationship.
Likewise, the prosecutor asked the expert if she was able to determine from the interviews if the episode of violence actually existed, to which the professional replied: "It exceeds my work as an expert." In this sense, the defense consulted if he saw in Cortés signs of having suffered gender violence, before which Santamaría concluded that "none of that was seen".
MB PC