Independiente received a ruling against it from FIFA in the framework of a trial with the Ecuadorian soccer player Fernando Gaibor, who passed through the club between 2018 and 2019.
The entity ruled that the Red you will have to pay Gaibor 2,394,000 dollars for salary debts and interest.
The board headed by Fabián Doman will appeal the FIFA ruling and will try to reach an agreement, although it will not rule out taking the case to the Sports Court (TAS).
The conflict between Gaibor and the cast of Avellaneda began in 2019 and It is the second time that FIFA fails against the red institution. In 2021, the mother house of soccer recognized the Ecuadorian a salary debt of 14 million pesos.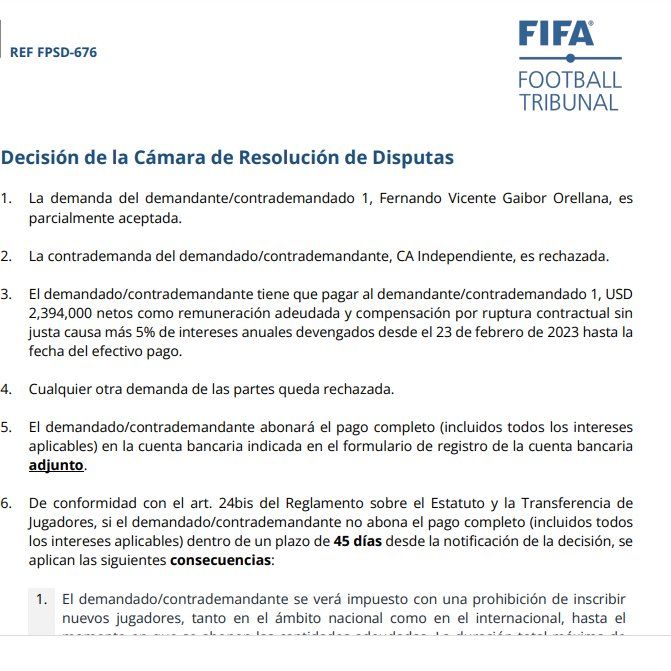 He Red must also pay $250,000 in January 2022 to lift a ban presented by the representative of the Ecuadorian soccer player who recently passed to guayaquil barcelona.
In turn, the club had sued the player and the club guayaquil citywho hired him when he thought with the free pass for debts when he had to return from his loan in Al Waslof United Arab Emirates.
The present of Independent
El Rojo receives the Instituto de Córdoba on Sunday at 5:00 p.m. for date 6 of the Professional LeagueI Leandro Stillitano will try a new scheme and team to straighten the course since he has not known victory for 4 games. The coach stopped the following team while waiting for Iván Marcone: Rodrigo Rey; Patricio Ostachuk, Sergio Barreto, Javier Baez, Ayrton Costa; Baltasar Barcia, Marcone, Kevin Lopez, Nicolpas Vallejo; Matías Giménez and Martín Cauteruccio.